December 4th, 2012
Jemma Perry is a house maid dressed in a frilly satin French maid's outfit. She is tidying up after a party where the guests have left out all sorts of exquisite satin clothes out – she fantasises what is would be like to wear some of them… once the temptation gets to her she finally she slips out of the French maid's outfit and into one of the satin dresses and treats herself to a glass of champagne!
Watch more of Jemma Perry in silk & satin here
December 1st, 2012
Michelle has chosen a pair of deep red fullback satin panties to wear under her black dress – that way you can eaily see them and how shiny they are when her silky dress floats up… Lucky for us she also has a glass dildo which she loves to rub all over her panties and into her pussy too

See Michelle stuff her glass dildo into her satin panties here
November 30th, 2012
Katie Mae is a real eye-turner as she walks through the local park dressed completely in silk and satin. Her pure silk skirt floats in the breeze and her gold camisole glistens in the sun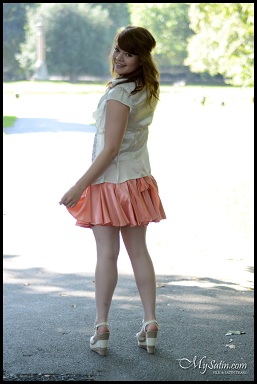 See the pictures and video here
November 27th, 2012
Baybee loves to dance and watching her dance in this slinky pink satin dress is mesmerising!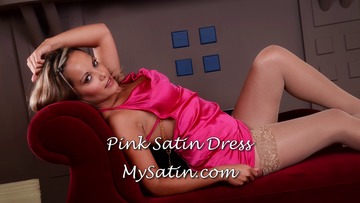 Come and watch the sexy satin video here
November 7th, 2012
I love how Emily's boobs are just about bursting out her black satin top. I imagine running my hands over the smooth fabric and caressing her beautiful breasts
Watch as she rolls in the red satin sheets and strips off
November 3rd, 2012
Lucy has the most gorgeous blue eyes – and as she reclines on the chaise longue in just a pink satin and lace negligee she looks so fuck-able! Maybe it's just the cleavage shot or perhaps that cute smile?
See more of Lucy in silk & satin here
October 28th, 2012
Louise's ass looks great encased in fullback pink satin panties – she rolls about in the satin sheets in her cute pyjamas before stripping them off to be left in just a pink satin and chiffon negligee!
October 23rd, 2012
Ann is wearing layers of blue satin and loves spreading her legs so you can see her satin panties tight against her body!
October 19th, 2012
Elle is getting ready in a red satin cheongsam, but she wants to show you what she has on underneath – black satin lingerie

She peels off the cheongsam and shows of the black satin thong and top
October 17th, 2012
Hollie has the most gorgeous smile. And the most gorgeous ass too…!

I can just imagine massaging her bum through her satin shorts before rolling her over to play with her massive boobs. All in satin of course!
« Previous Page
—
Next Page »