March 10th, 2014
You bump into Tiffany, one of your girlfriend's better looking friends, who just loves to fuck with peoples minds… She's heard all about your fetish for satin from your girlfriend (who wants nothing to do with it), and decides to have a bit of fun. Dressed head to toe in satin she begs you to wank all over her satin clothes!
See the satin tease video here
February 28th, 2014
Penny and Sophie are both dressed up as Marilyn look-a-likes in pure silk flowing dresses. They compete with each other who can do the best "fan scene" followed by some kissing and cuddling in their silk dresses!
See who wins the silk marilyn contest in the video here…
February 24th, 2014
Hannah Shaw loves how hot these red satin shorts make her ass look as she bends over. She spreads her legs and starts caressing herself through the satin fabric – it's not long before she slips her hand into her gold satin panties!
Get a closer look at Hannah's satin camel toe here!
February 19th, 2014
Siobhan relaxes on the side of the bed in a long flowing satin gown; she loosens the tie from the neck to let her massive perfect breasts fall out
February 16th, 2014
Elle slides her hands over her shiny pink satin backless dress. She reclines on the chaise longue showing off her long slender legs and fullback satin panties!
February 12th, 2014
Katie is sitting at the dressing table admiring herself and her long satin nightgown in the mirror!
See more of Katie Mae in satin here
February 9th, 2014
Michelle Moist is wearing an amazing liquid satin dress as she jumps onto the bed and spreads her legs. She starts working her pussy through some fullback satin panties. She then decides to change into a beige one-piece satin teddy and stuffs a glass dildo into her pussy whilst fondling her pert tits at the same time!
Watch Michelle fuck herself in the full satin video here…
January 29th, 2014
Tina's blue silk blouse caresses her breasts as her gold satin skirt slides across her pale thighs. Sitting back in the chair, she spreads her legs so she can play with her pussy though her silk shorts!
See how naughty Tina gets in her silk and satin clothes here…
January 27th, 2014
Imagine coming home to find your girlfriend dressed like Yvi – a short satin microskirt which glides against her silky thighs, fishnet holdups, and a super shiny satin top showing off her boobs!
See what happens next in Yvi's satin tease here
January 27th, 2014
Penny and Sophie love to caress each others bodies through their silky satin pyjamas as they roll about in bed. Sophie slips a hand onto Penny's boobs whilst they kiss…!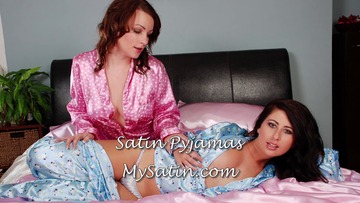 See more of Penny and Sophie in satin here
Next Page »