January 3rd, 2015
Hannah Shaw is such a cutie – she smiles at you whilst fingering herself through her satin pyjamas – perfect!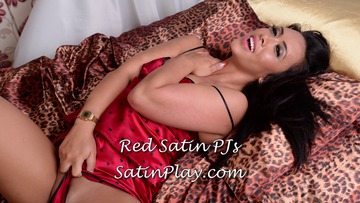 Watch her pussy get wet on the satin sheets here
December 17th, 2014
Baybee is wandering through the forest in her pure silk dress – she stops to sit on a fallen tree where she flashes her satin panties!
Watch the full silk video here
December 11th, 2014
Cath Faza has the perfect body for wearing skin tight jeans – and it's even better when those jeans are made from stretch satin showing the great ass
See what Cath gets up to in her layers of satin clothing here
November 12th, 2014
You would never be able to guess this woman's age as she has kept herself in such good shape, and age is no barrier to looking absolutely stunning wearing satin.
Watch this mature woman masturbate through her satin pyjamas here…
October 23rd, 2014
What a gorgeous model this is, and wearing gorgeous silk and satin clothes too!

I love the way that tight satin blouse hugs her big tits and the silk skirt is so short and tempting….!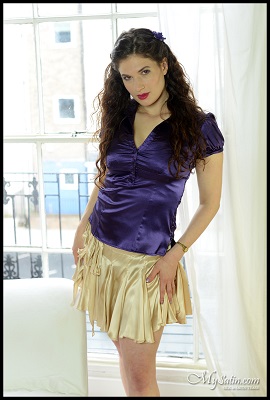 October 15th, 2014
The thought of a strong woman holding me down, naked, whilst she is dressed in satin is quite exciting! Chloe has the perfect fitness body and she shows you just how flexible she can be in her satin workout shorts…

Watch Chloe get hot in satin here
October 9th, 2014
Fiona loves rolling about in satin sheets – that pink and blue satin suits her so well

October 6th, 2014
Jess and Jasmine know how to have fun – fucking each other on satin sheets whilst wearing long satin gowns. This video is hot!
October 3rd, 2014
Elle is such a gorgeous sight to see, dressed in a shiny yellow satin top and gold satin hotpants – I can just imagine what it would be like to slide up next to her and caress through all those layers of satin
July 9th, 2014
Cath Faza is one sexy woman! Her long legs and slim body are just perfect for the red satin nightie she has on. She plays in the satin sheets for your pleasure…
Next Page »